Bio
---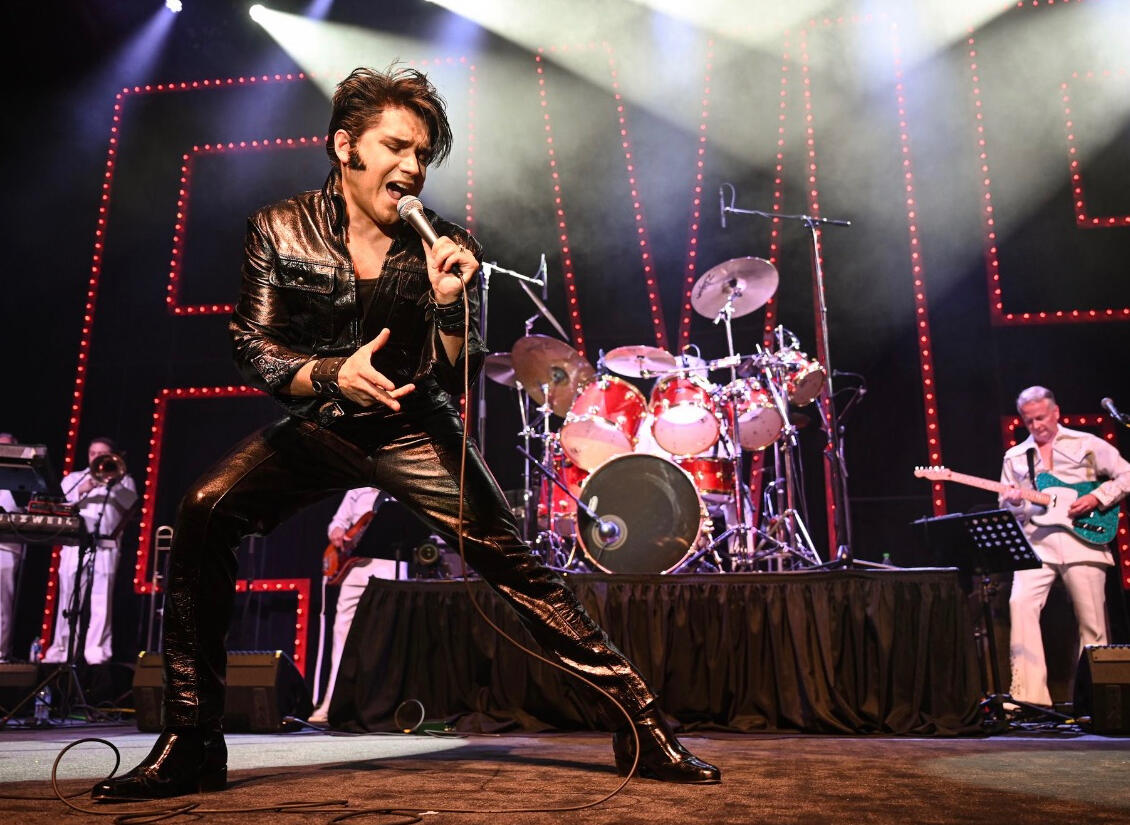 Victor Trevino Jr is 'Elvis Presley Enterprises Ultimate Elvis Tribute Artist'. He was born and raised in Fort Worth Texas. He portrayed Elvis in the hit show 'Elvis Lives' for 3 years. It is the only touring Elvis show officially licensed and endorsed by Graceland. He also portrayed Elvis for several years in the hit Las Vegas show 'Legends in Concert' in their Las Vegas, Hawaii and Alabama productions. Victor's highly acclaimed starring role in the hit show 'The King in Concert' led to a residency at the New Theater in Kansas City KS.
Victor does many shows for and on behalf of Graceland. As a result, he continues to be in very high demand for casinos, theaters, festivals, and corporate shows worldwide. He continues to dazzle audiences all over the world, from the Las Vegas strip to Australia's land down under. He gives Elvis fans a glimpse of what it may have been like to see the real Elvis in concert. Because he himself is so young and talented, Victor is also helping to create a whole new generation of Elvis fans.
Victor is one of only a few who has mastered the task of performing all eras of Elvis' musical catalogue. From the exciting electric rock n roll of the 1950s to the sultry, bluesy
sounds of the 68' Comeback Special wearing all black leather, then finally the ionic record-breaking performances of Elvis' Las Vegas and concert years in the unforgettable jumpsuits.
Victor performed live on New Year's Eve for CNN on Graceland's behalf. He was named an ambassador and given a key to the city of Tupelo Mississippi (Elvis' birthplace). He's performed for some of the world's biggest companies such as Southwest Airlines, American Airlines, US Travel Association, Hal Leonard, Warner Brothers, Authentic Brands Group (which owns the brand Elvis), Service Now, Caesars Entertainment, Boyd Gaming, and Pinnacle Gaming, just to name a few. Victor has opened for and worked with Grammy award winning acts such as Donny Osmond, Olivia Newton John, Boys II Men & Foreigner.
Victor had the honor of working with many of Elvis' own musicians, friends, and back-up singers such as The Jordanaires, The Stamps Quartet, The Sweet Inspirations, DJ
Fontana (Elvis' original drummer), as well as Elvis' very own 'inner circle Jerry Schilling, Charles Stone, Linda Thompson, Sam Thompson, and Joe Esposito.
Victor is Elvis' biggest fan and knows there will never be another Elvis Presley. His goal is to recreate the amazing energy, raw passion, and showmanship of the greatest entertainer the world has ever known. Victor puts 1,000% into every performance whether it's a crowd of hundreds or thousands. He loves what he does so much, that he continues to master his craft and is always open to new endeavors and projects. Victor Trevino Jr is a talented actor, singer, musician, songwriter, and award-winning Elvis Tribute Artist bringing the music, the magic and the memory of the king of Rock n Roll to audiences worldwide.
TOUR
---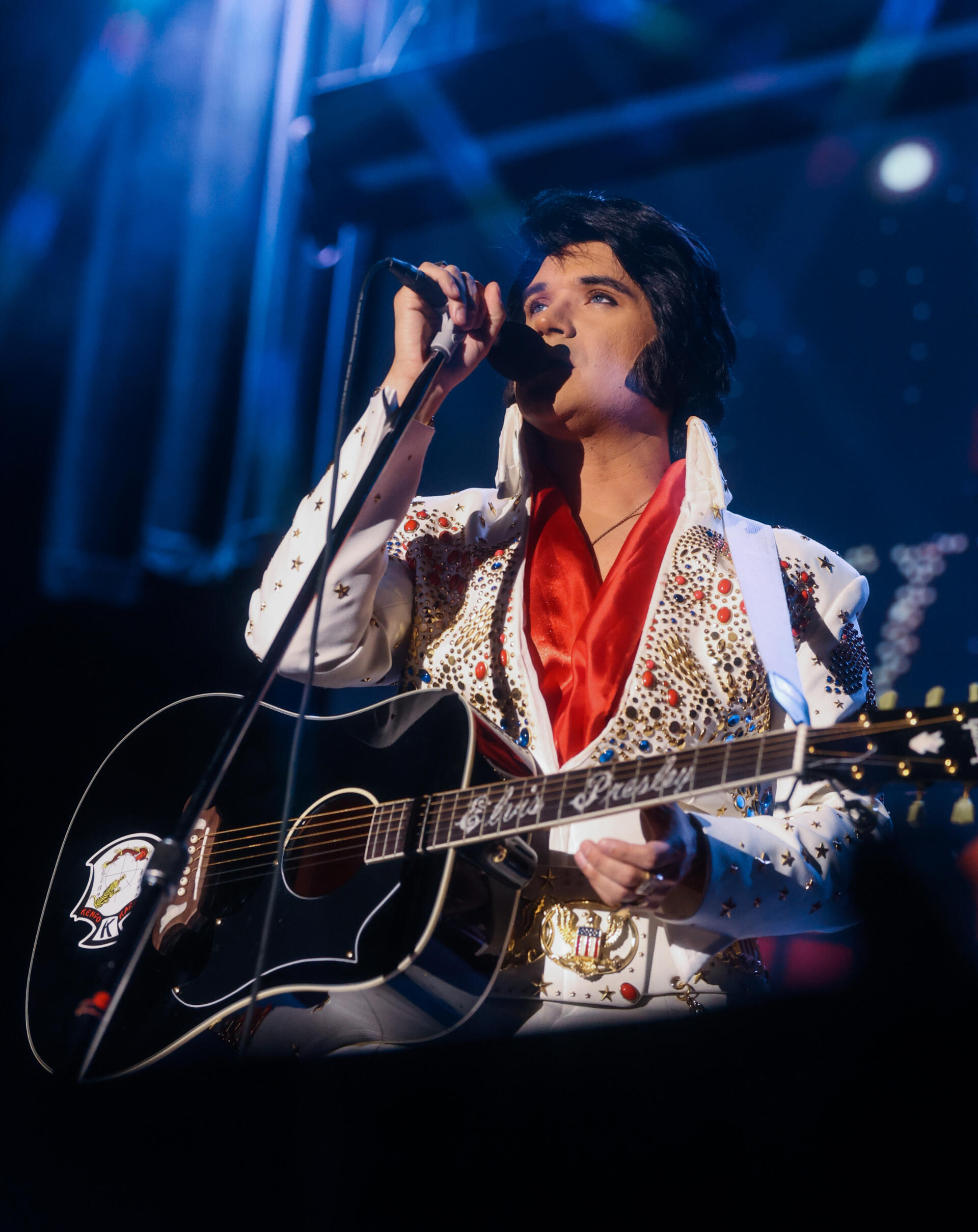 1/4 - 8 - Parkes Elvis Festival Parkes, NWS Australia1/13 -MotorCity Casino Detroit, MI1/14 - New Barn Theatre at the Renfro Valley Entertainment Center Mount Vernon, KY1/20 - The Carolina Opry Myrtle Beach, SC1/28 - A Night With Elvis Kickapoo Casino, Harrah OK2/3 - The Ultimate Elvis Experience Downtown Cowtown at the ISIS, Fort Worth, TX2/4 - The Ultimate Elvis Experience Downtown Cowtown at the ISIS, Fort Worth, TX2/11 - 18 Cruzin' Victor Trevino Jr Western Caribbean Carnival Cruise.
Call Janice Coitti 313-381-7889 for more info3/3-5 - Graceland's Ultimate Elvis Tribute Weekend Graceland Guesthouse, Memphis TN3/18 - KING IN CONCERT Apache Junction PAC, Apache Junction AZ3/19 - KING IN CONCERT
Chandler Center for the Arts, Chandler AZ3/21 - KING IN CONCERT Arizona Central College - Pence Center, Coolidge3/25 - Party in the Pasture Blue Suede & BBQ - Meals on Wheels Charity Event Circle T Ranch, Westlake TX4/1 - Concert of Kings Mayo PAC, Morristown NJ4/2 - Concert of Kings The Suffolk Theatre, Riverhead NY4/28 - NC Tribute Festival to the King Edward C. Smith Civil Center, Lexington NC4/29 - NC Tribute Festival to the King Edward C. Smith Civil Center, Lexington NC4/30 - NC Tribute Festival to the King Edward C. Smith Civil Center, Lexington NC5/4 - One Night With The King Club Regent Casino, Winnipeg, MB Canada5/6 - The Ultimate Elvis Hot Springs Village POA, Hot Springs Village AR5/13 - Concert of King - Arbogast PAC Troy OH5/21 - The Ultimate Elvis - 75th Annual Shimporee Festival, Aransas Pass, TX5/25 - Lone Star Elvis Festival Palace Arts Center, Grapevine TX5/26 - Lone Star Elvis Festival Palace Arts Center, Grapevine TX5/28 - Lone Star Elvis Festival The Texas Trouble at Tolbert's, Grapevine TX6/1 - Ultimate Elvis Experience Sugar Loaf PAC, Chester NY6/3 - Ultimate Elvis ExperinceThe Armory PAC Brighton, CO6/4 - The Ultimate Elvis Experince Ute Theater and Event Center, Rifle CO6/7 - Tupelo Elvis Festival Tupelo Elvis Festival, Tupelo MS6/8 - Tupelo Elvis Festival Tupelo Elvis Festival, Tupelo MS6/9 - Tupelo Elvis Festival Tupelo Elvis Festival, Tupelo MS6/10 - Tupelo Elvis Festival Tupelo Elvis Festival, Tupelo MS6/11 - Tupelo Elvis Festival Tupelo Elvis Festival, Tupelo MS6/15 - The Studio at Mizner Park Boca Raton, FL6/16 - The Studio at Mizner Park Boca Raton, FL7/1 - 4th of July Celebration at Graceland Graceland Guesthouse, Memphis TN7/8 - One Night With King Isleta Casino, Albuquerque NM7/11 - UK & Italian tour more info coming soon7/12 - UK & Italian tour more info coming soon7/13 - UK & Italian tour more info coming soon7/14 - UK & Italian tour more info coming soon7/15 - UK & Italian tour more info coming soon7/16 - UK & Italian tour more info coming soon7/17 - UK & Italian tour more info coming soon7/18 - UK & Italian tour more info coming soon7/19 - UK & Italian tour more info coming soon7/20 - UK & Italian tour more info coming soon7/21 - UK & Italian tour more info coming soon7/22 - UK & Italian tour more info coming soon7/23 - UK & Italian tour more info coming soon7/30 - King in Concert Main State Music Theatre, Brunswick ME7/31 - King in Concert Main State Music Theatre, Brunswick ME8/3 - Norwegian Elvis Festival Malory, Norway8/4 - Norwegian Elvis Festival Malory, Norway8/5 - Norwegian Elvis Festival Malory, Norway8/9 - Elvis Ultimate Hits Graceland Soundstage, Memphis TN8/10 - Elvis Unplugged The Guest House at Graceland, Memphis TN8/19 - The Ultimate Elvis Experience Kickapoo Casino, Harrah OK8/25 - The Ultimate Elvis Experience Williams Auditorium, Henderson TN8/26 - The Ultimate Elvis Experience The Capital Arts Center, Bowling Green KY8/28 - Memphis Rock and Roll Revue Hale Theatre, Gilbert AZ8/29 - Memphis Rock and Roll Revue__ Hale Theatre, Gilbert AZ8/30 - Memphis Rock and Roll Revue__ Hale Theatre, Gilbert AZ9/2 - The Ultimate Elvis ExperienceDes Plaines Theatre, Des Plaines IL9/3 - The Ultimate Elvis Experience Rock N Rail Festival, Griffith, IN9/16 - The Ultimate Elvis Experience Kansas State Fair, Hutchinson KS9/22 - The Ultimate Elvis Experience Downtown Cowtown at the ISIS in the Stockyards, Fort Worth TX9/23 - The Ultimate Elvis Experience Downtown Cowtown at the ISIS in the Stockyards, Fort Worth TX9/30 - __THE TEXAS TROUBLE(non Elvis Show) Longhorn Saloon, Fort Worth TX 7613210/5 - Texas Elvis Weekend Waco Convention Center, Waco TX10/6 - Texas Elvis Weekend Waco Convention Center, Waco TX10/7 - Texas Elvis Weekend Waco Convention Center, Waco TX10/14 - THE TEXAS TROUBLE (non Elvis show)
Tolbert's Chili Parlor's annual chili cook of Trelingua pre party. Grapevine, TX10/21 - Symphonic Tribute to Elvis Concert with the Shreveport Symphony Orchestra RiverView Theatre, Shreveport LA10/27 - ELVIS & Co Music Festival Deerhurst Resort, Muskoka, Ontario Canada10/28 - ELVIS & Co Music Festival Deerhurst Resort, Muskoka, Ontario Canada10/29 - ELVIS & Co Music Festival Deerhurst Resort, Muskoka, Ontario Canada11/4 - A Night With Elvis Brooklyn Opera House, Brooklyn, IA11/6 - Concert of Kings Arizona Music Fest Highlands Church, Scottsdale AZ12/9 - THE TEXAS TROUBLE (non Elvis show)
The Longhorn Saloon, Fort Worth, TX12/21 - Blue Christmas The Studio at Mizner Park, Bocca Raton FL12/22 - Blue Christmas The Studio at Mizner Park, Bocca Raton FL__KEEP CHECKING FOR UPDATES__
CONTACT
---